well I don't approve bloody saudi savages
The Muslim Issue
Exclusive: The autocratic petro-state could once again chair the influential panel
Jon Stone, The Independent
July 16, 2016
@joncstone
Former UK Foreign Secretary Philip Hammond and Saudi Foreign Minister Adel Al-Jubair in May this year
Ministers have refused to rule out re-electing Saudi Arabia to chair the United Nations' human rights council for a second time.
The autocratic petro-state's appointment to the international body caused international outcry in 2013, with the British Government's role in the affair under particular scrutiny.
The Government last year was urged to come clean over whether it backed the appointment of the Faisal bin Hassan Trad, Saudi Arabia's ambassador at the UN in Geneva, to chair the panel of so-called independent human rights experts.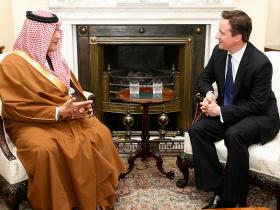 Leaked diplomatic cables appeared to show the UK was involved in a secret vote-trading deal to secure spaces on the council.
The influential five-strong panel selects applicants from around the world…
View original post 518 more words